Do you live with someone that is unable to perform the activities of daily living such as: bathing, toileting, cooking, eating or getting dressed?
Are they elderly or disabled?
Are they 16 years of age or older?
Do they have MassHealth Standard?
If you answered yes to the questions above, then you may be able to receive a monthly payment once they are approved into our program.
We offer services, such as monthly nurse visits and daily care through a caregiver. The caregiver can be a friend or a family member living in the same household as the person requiring assistance. The caregiver will then receive a monthly check, that is non-taxable to essentially do what they have been doing all along, that is taking care of a loved one.
Caregivers Support individuals who are:
16 years of age or older
Developmentally, physically or cognitively disabled
A member maybe eligible under:
MassHealth Standard
Tufts
BMC
Senior Whole Health
Commonwealth Care Alliance
Fallon Health Plan
Who are Caregivers?
Caregivers are usually friends or family members who live with the member in their own home, although a spouse cannot be a paid caregiver.
Caregivers provide assistance with activities of daily living (ADLs)
Bathing
Eating
Dressing
Toileting
Transferring
Mobility
Caregivers also can support: Cooking, cleaning, transportation, laundry, shopping, banking assistance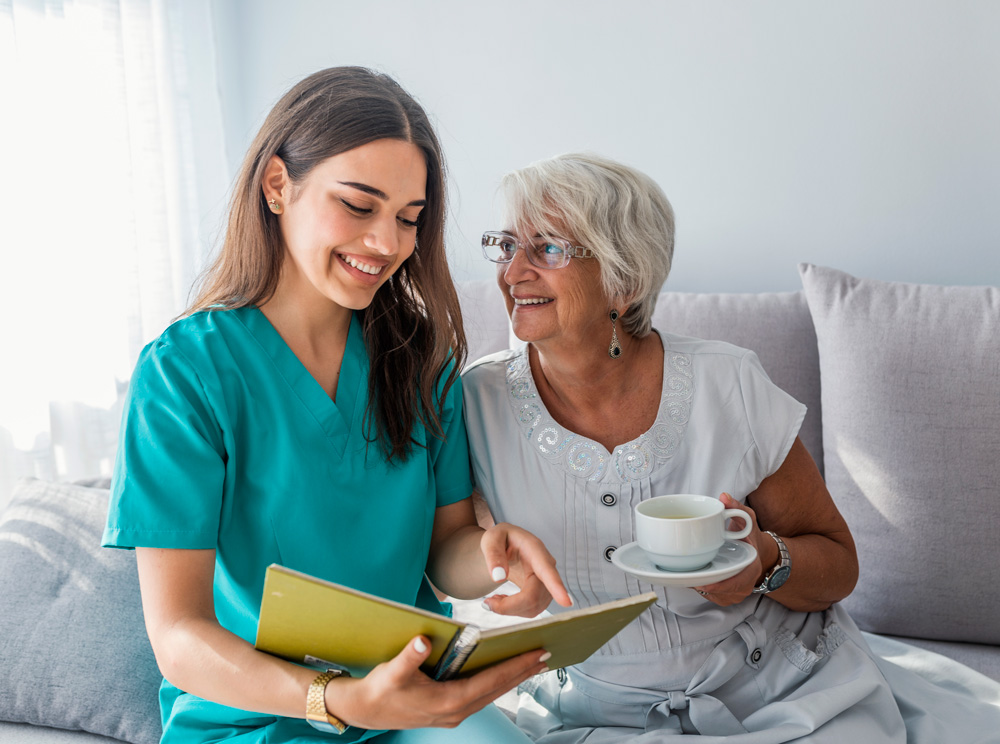 1
What type of insurance is required to be eligible for Adult Foster Care services?
To qualify for Adult Foster Care services the potential member must have or be eligible for MassHealth Common Health or MassHealth Standard.
2
Are members and caregivers required to live together?
Yes, all members and caregivers are required to reside in the same house, in order to provide 24-hour care.
3
What are the caregiver's necessary qualifications?
Must be 18 years of age or older
Must be able to pass Criminal Offender Record Information check
Must have the ability to provide the medical care and physical assistance
required to care for the potential member
Must be able to provide references
Must have a physical and TB test within the past 12 months
4
What happens once someone is approved for Adult Foster Care services?
Upon approval, the member will receive a letter from Masshealth regarding their approval status.
Once the member is approved a Registered Nurse and/or Care Manager will contact the member and caregiver to setup a meeting to begin adult foster care services
5
Can the member stay home alone while I go to work and/or school?
Some members are allowed to stay home alone for up to 3 hours depending on their level of care.
Members are also allowed to participate in Adult Day Health program, and still be eligible for AFC services
6
What is the requirement to get paid as a caregiver?
Must be a legal permanent US resident
Clinical Nurse Director
Coordinates the services outlined in your personalized Home Care Plan
Case Manager
Coordinates the specific services you'll need and schedules the visits of team members
Registered Nurse (RN)
Examines you, checks vital signs, reviews and manages your medications, confirms appointments, and alerts doctor about new health issues
Physical Therapist
Guides you through personalized exercises that build strength and stamina
Rehabilitation Therapist
Guides you through special exercises that improve your ability to perform certain tasks
Homemaker
Assists with doctors visit, medication, personal activities and tasks ranging from bathing and dressing to meal preparation and housework
Community Liaison
Connects you with community resources that provide further emotional, financial, and healthcare support
Health Coach
Evaluates your nutritional needs and designs a food plan to improve your health and support your recovery
"I would definitely recommend home health care services from Healthier You Adult Foster Care to a friend or family member."

If they were in need of these services, I would absolutely recommend Healthier You Adult Foster Care to a friend and family member.

I would definitely recommend your services to a friend or family member.
Financial Assistance For Caregivers
Did You Know You Can Get Paid
to Provide Care for Your Loved One?
Many of our Adult Foster Care clients are also being cared for by a loved one—and being PAID to do it—thanks to a MassHealth program Adult Foster Care program.
Find out if you qualify